Categories¶
Categories can optionally be assigned to extended study notes or sidebars by supplying a category tag (name) inside of opening and closing \cat ...\cat* markers. Category tags should be restricted to alpha-numeric characters. A list of category tags are defined individually and uniquely for each study Bible project.
\cat …\cat*¶
Syntax

\cat_<TAG>\cat*

Type

character (extended note)

Added

2.1

Use

Extended note or sidebar category tag.
Note
Implementations: The ParaTExt translation editor provides an interface for supplying a pre-defined content category tag list for a study Bible project. Paratext can use this list to guide the author toward using only categories from the pre-defined set. Support for formatting content with different category tags needs to be provided by the publishing solution in use. The Custom Layout features in Publishing Assistant (>=4.0) provide advanced support for handling study content categories.
---
Text and Formatting Samples
Extended Footnotes with Category Tag - Matthew 2.4 (Good News Study Bible - UK)
\p
\v 1 This is the list of the ancestors of Jesus Christ, a descendant of David, who
was a descendant of Abraham.
\p
\v 2-6a From Abraham to King David, the following ancestors are listed: Abraham,
Isaac, Jacob, Judah and his brothers; then Perez and Zerah (their mother was Tamar


\ef - \cat People\cat*\fr 1.2-6a: \fq Tamar: \ft Bore her twin sons out of wedlock


(Gen 38.6-30).\ef*), Hezron, Ram, Amminadab, Nahshon, Salmon, Boaz (his mother was Rahab


\ef - \cat People\cat*\fr 1.2-6a: \fq Rahab: \ft A prostitute in Jericho (Josh 2.1-21;


6.17-25; Jas 2.25).\ef*), Obed (his mother was Ruth\ef - \cat People\cat*\fr 1.2-6a:


\fq Ruth: \ft A Moabite (Ruth 1.4). Only outstanding women were normally included in
Jewish genealogical lists.\ef*), Jesse, and King David.
\p
\v 6b-11 From David to the time when the people of Israel were taken into exile in
Babylon\ef - \fr 1.6b-11: \fq exile in Babylon: \ft In 597 \sc BC\sc* King Nebuchadnezzar
of Babylonia conquered Jerusalem and took many of its inhabitants as prisoners to his
country (2 Kgs 24.10-16; 2 Chr 36.9-10).\ef*, the following ancestors are listed: ...


Sidebar with Category Tag - Matthew 2.4 (CEV Learning Bible)
Example 1: Category based formatting using background colors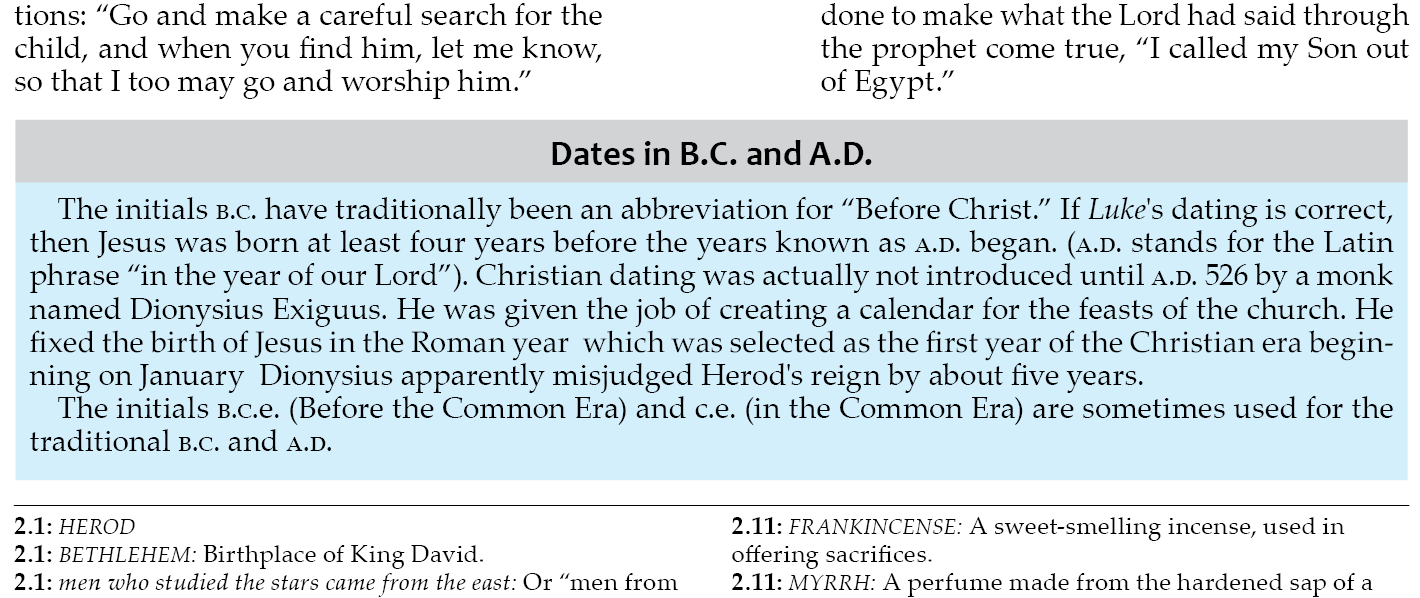 Example 2: Category based formatting using images/icons